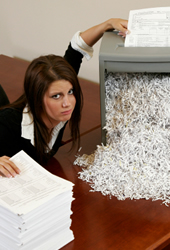 Shred Nations has been providing mobile shredding services and offsite shredding services to corporations and businesses nationwide for decades—we know how to help your business with your shredding needs.
We can help you find a reliable, secure shredding provider in your area that can schedule a one-time purge or ongoing service for whichever time-frame you require.
Hiring a secure shredding service will ensure that your documents are shredded quickly and efficiently, streamlining your document shredding management plan and reducing the chance of a data breach due to inefficient or in-house shredding.
We also offer detailed information on Electronic Media Destruction and Hard Drive Shredding—a service that businesses use to ensure their digitally stored information is securely disposed of when they retire a computer or other office equipment from use.
Click on the subjects below to learn more about Business Shredding, Electronic Media Destruction, and Hard Drive Shredding:
Learn about the advantages of hiring a secure shredding service for your business. From business document retention times to shredding policy and procedures, we'll provide you with detailed information on what's best for your business.
Protect your information by properly disposing of your hard drives and retired office equipment.  We'll discuss the different ways to destroy electronic media and hard drives, and what it takes to ensure your data is protected.
Do you need secure Document Shredding or Electronic Media Destruction?  Shred Nations can help!
Whether you're looking for secure mobile shredding services or electronic media destruction, Shred Nations can help you find a NAID Certified provider in your area.  Our trained staff of specialists that can help you decide the best course of action for your project.
Our network of contractors allows us to come to your location if you need to ensure a proper chain of custody, and you will be provided a certificate of destruction that details when and where your documents or electronics were destroyed.
To get started, fill out the form to the right, or give us a call at (800) 747-3365 for a free, no-obligation shredding quotes within minutes.