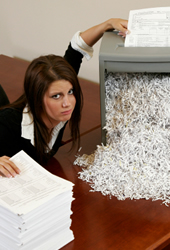 Shred Nations has been providing mobile shredding services and offsite shredding services to corporations and businesses nationwide for decades—we know how to help your business with your shredding needs.
We can help you find a reliable, secure shredding provider in your area that can schedule a one-time purge or ongoing service for whichever time-frame you require.
Hiring a secure shredding service will ensure that your documents are shredded quickly and efficiently, streamlining your document shredding management plan and reducing the chance of a data breach due to inefficient or in-house shredding.
We also offer detailed information on Electronic Media Destruction and Hard Drive Shredding—a service that businesses use to ensure their digitally stored information is securely disposed of when they retire a computer or other office equipment from use.
Click on the subjects below to learn more about Business Shredding, Electronic Media Destruction, and Hard Drive Shredding:
Learn about the advantages of hiring a secure shredding service for your business. From business document retention times to shredding policy and procedures, we'll provide you with detailed information on what's best for your business.
There are a number of things to consider when choosing a professional shredding service, versus shredding in-house. There are advantages and disadvantages to both, and depending on your business, there may even be legal requirements. Learn more about the costs, security features, and convenience of professional shredding.
This step-by-step guide will walk you through every step of the process. Learn about the different methods available, and discover which service is the right fit for your project.
Record retention laws can be tricky and confusing. The fact that many of these laws also vary by state and industry can make the situation even more complicated. This guide will help you navigate state laws, and provide resources for industry-specific retention guidelines.
Protect your information by properly disposing of your hard drives and retired office equipment. We'll discuss the different ways to destroy electronic media and hard drives, and what it takes to ensure your data is protected.
This article will walk you through the three most common types of hard drive destruction and erasure. Not all methods are the same, and depending on your industry, there may be different compliance regulations and penalties.
Few things are more frustrating than a broken piece of machinery. Especially if that machine is vital to your information security. In this article, we'll discuss the dangers of a broken shredder, and offer up some excellent alternatives to shredding your documents yourself.
We'll explain the differences between mechanical hard drive destruction and destruction using software. This article will define terms like erasure, wiping, degaussing, shredding, and crushing. It's important to understand the differences in each method, and the varying degrees of security they provide.
Computers aren't the only devices around your office that store data. People are often surprised to learn that fax machines, scanners, and printers also contain storage media, just to name a few. This guide will help you to locate often overlooked items when it comes to data destruction. Don't forget about those CD's and flash drives too.
This article will define the mobile shredding process, and how it's different from drop-off and off site shredding. These terms can often be confusing, but this guide aims to clarify what exactly goes into the mobile shredding process. Read on to see how mobile shredding can streamline your office document destruction.
Believe it or not, in most cases hiring a shredding company is more cost-effective than shredding documents internally. This article will shed some light of what the advantages and disadvantages are, as well as how each one can cost you.
This guide addresses some of the most common myths regarding document shredding. Let our years of experience and expertise help you separate fact from fiction.
This article will walk you through the history and manufacturing of shredders and shredding equipment. You'll learn about the different types of shredders, industry standards, and the two most important laws that require shredding.
Do you need secure Document Shredding or Electronic Media Destruction? Shred Nations can help!
Whether you're looking for secure mobile shredding services or electronic media destruction, Shred Nations can help you find a NAID Certified provider in your area. Our trained staff of specialists that can help you decide the best course of action for your project.
Our network of contractors allows us to come to your location if you need to ensure a proper chain of custody, and you will be provided a certificate of destruction that details when and where your documents or electronics were destroyed.
To get started, fill out the form to the right, or give us a call at (800) 747-3365 for a free, no-obligation shredding quotes within minutes.