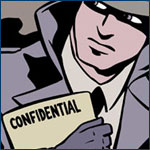 As part of the security industry we have been in the middle of the identity theft issue for years. However, the panic the media created around this crime has far outpaced the real threat. To boost the numbers of victims, generic credit card fraud was bundled into the same category and even then the crime rates are declining. We believe this is a result of individuals and institutions being more vigilant.
Everyday dozens of news article are published about identity theft and everyone includes the phrase "fastest growing crime." Just this month The Daily Kansan, The San Diego Business Journal, the MetroWest Daily News, the Des Moines Register, KCAX and WCSH included this phrase in an their articles.
But where do they get their information? The statistics for the last two years from the FTC and BBB are contrary to this assertion. Identity theft crimes are actually in decline. A 2003 FTC survey, reported that 10.1 million U.S. residents were victims of identity theft with $51.4 billion stolen. The next year the BBB reported 9.3 million victims with $52.6 billion in losses. While the amount of money stolen is increasing the number us victims is down by 800,000.
James Van Dyke, an analyst from Javelin Strategy and Research who performed the survey for the BBB added, "the most extreme forms of identity fraud are pretty rare."
The next big myth is that identity theft is the result of data breaches and phishing emails. Data breaches are rarely the result of a crime ring. Only 0.2% of the names stolen ever end up in the thief's hands. Data collected from phishing is even more rare since it was exposed years ago.
Does that mean we can all relax now that identity theft is over? No, but don't loose sleep after every new report of a data breach or waste money on identity theft insurance. It is likely our diligence keeping this crime down. Here are some simple things you should be doing keep the thieves at bay.
Bank online – People who bank online have two advantages over their paper counterparts. They have eliminated the risk of their mail being stolen and they can detect any fraud much quicker. How quickly the fraud is detected is the biggest factor in amount stolen.
Shred – You need to shred everything with your name, address and account number. This gets to be drudgery for most people so use a home shredding service like Ship 'n' Shred to make shredding easy.
Secure your mail – Don't leave your personal information in an unsecured mailbox. Collect your mail as soon as possible when delivered and take your outgoing mail to the post office or other secured location.
Check your credit report – Everyone gets a free copy of your credit report every year. Check it for any discrepancies and close out any accounts that you no longer use.
Remain vigilant – The old advice still holds true. If it sounds too be good to be true, it probably isn't. Don't give away your personal information to people who call you or send you unsolicited emails.