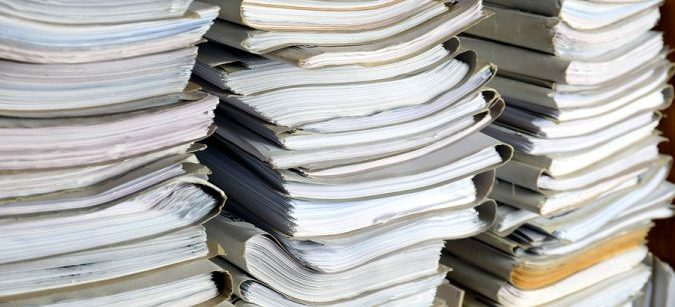 When To Use a Purge Shredding Service
Shredding private documents is a must, and depending on how many files you have to shred, you can do the work yourself or hire a professional shredder.
Purge shredding services are designed to be quick, convenient, and secure.
You simply schedule a time with your shredding provider of choice, they pick up and transport your documents to a secure shredding facility (or they shred them onsite), and they dump your files through a large industrial shredder capable of shredding thousands of papers per hour.
If you have more than 100 lbs of paperwork that needs to be shredded, a purge shredding service is you perfect solution.
Top Benefits of Using a Purge Shredding Service
Purge shredding services allow you to quickly shred large volumes of private documents without having to deal with any frustration or mess. When it comes time for you to shred your files, consider these benefits of a one-time shredding purge service:
1. Save Time and Money
Depending on the amount of files you have to shred and whether or not you want to witness the shredding process, a one-time shredding purge service can cost anywhere from around $80 to $120.
While this may seem like quite a bit for shredding, if you do the math regarding the time it would take an employee to shred each sheet of paper and how much you pay that employee per hour, the cost of a service is usually far less.
2. Security
Shredding service providers shred documents for a living—they know how to streamline security. From using locked bins and trucks for document transport to providing a certificate of destruction detailing the ins-and-outs of the shredding process, you can rest easy knowing your information is safe.
3. Recycling
Recycling centers don't take loose paper shreds from individuals. If you want to ensure that your paper shreds get recycled, use a service provider. Service providers partner with recycling facilities, and they shred enough paper that they can bale it and send it to a recycling plant where it will be pulped down and reused.
Find a Shredding Service Provider Near You
Shred Nations partners with an extensive network of shredding service providers who handle all sized shredding projects. Whether you need to shred 30 lbs of paper today, 100 lbs of paper tomorrow, or 2,000 lbs of paper within the next week—we'll help you find a solution.
Call us at (800) 747-3365 or fill out the form on the right and we'll get you free quotes some several trusted shredders in your neighborhood.