Shredding private files keeps your information safe, but what happens to your documents after they're shredded? For the eco-conscious citizen, the hope is that your shreds are recycled.
Individuals typically can't send their paper shreds to be recycled because small volumes of shreds are too messy for recycling centers, but professional shredders can bale the shreds and have them recycled.
Watch the video below to learn more about what happens to industrial paper shreds.
Video Transcript
Recycling After Shredding
After paper is shredded the process typically ends with recycling.
Finishing the "circle of life" for documents, once the paper shreds are recycled and reused in new paper products the information you dispose of is truly gone without a trace.
How are Shreds Recycled?
After papers are shredded, the shreds are baled and taken to a recycling plant to be processed and made into new paper products.
To take paper bits that once had sensitive information and have them reused for new print paper, newspapers, or boxes there are a few steps to the recycling process.
1. Chemical Wash and Heat
The recycling process begins with the shredded paper bits being placed in vats to be chemically washed with heat applied.
2. Pressing Paper Fibers
Next the broken down paper fibers are pressed through a screen to remove any contaminants.
3. Washing the Ink Out
Afterward the paper fibers are washed and cleaned to remove any remaining ink.
4. Putting it Back Together
Finally, the now pulped paper can be bonded, dried, and used to make new paper products.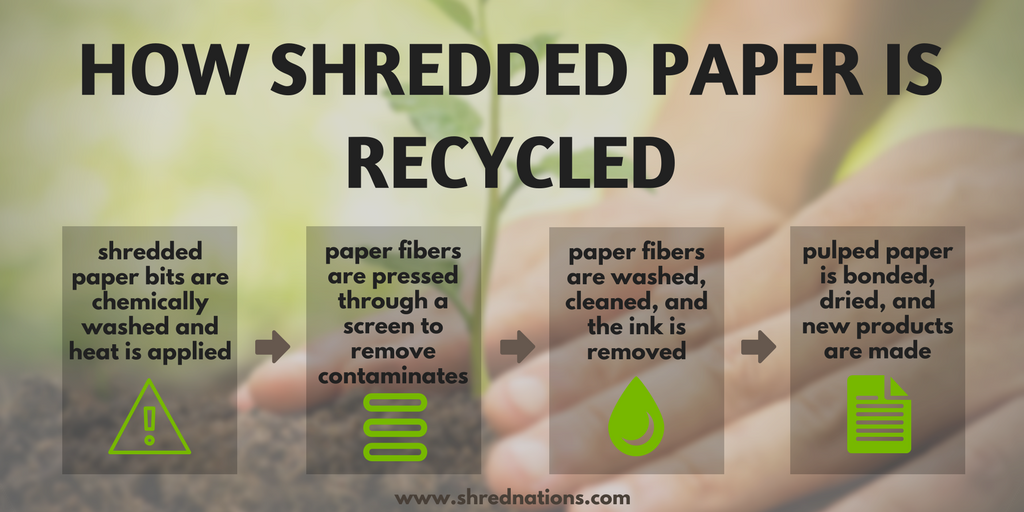 Can I Recycle Shred Myself?
Most recycling plants don't accept paper shreds because their small size makes them difficult to sort—especially if they're cross-cut.
Let Your Shredder Worry About Recycling
While recycling facilities don't take personal paper shreds, many partner with mobile and off site shredding providers who can bring in shreds in enough bulk to recycle them exclusively.
After the shredding is complete and you've received a certificate of destruction for proof of compliance, shredding providers finish by handing the shreds off to a secure recycling center to take care of the recycling for you.
Looking to Shred Green?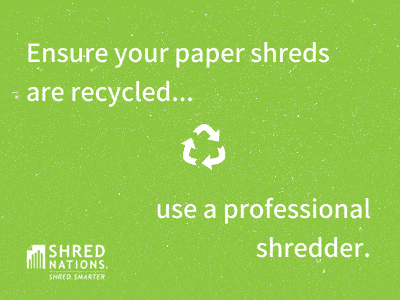 Join Allstate, The Red Cross, Toyota, and thousands of others who have used Shred Nations to find the best shredding solution for their needs.
We'll get you a free quote from several of our shredding partners so you can select the shredding option that best meets all your requirements.
Fill out the form on the right or call (800) 747-3365 and we'll match you to our partners who shred responsibly.