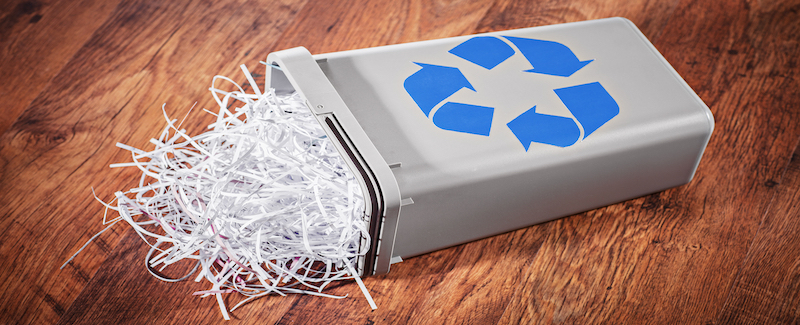 You've scheduled your routine shredding service. Your documents are picked up or delivered to the shredder, and you witness your personal files becoming bits of paper. But what happens from there?
If you've been shredding your documents at home, chances are you've been told time and again your paper shreds cannot be recycled. Or, you've been told waste pickup services won't actually recycle the paper shreds.
While this still holds true for shredding your documents at home, it's the complete opposite when you use a mobile, drop off, or offsite shredding service.
Transforming Shredded Paper into Recyclables
No paper can be recycled unless it goes through quite the process. The following infographic outlines how shredded paper goes from bits of paper to recycled goods step-by-step.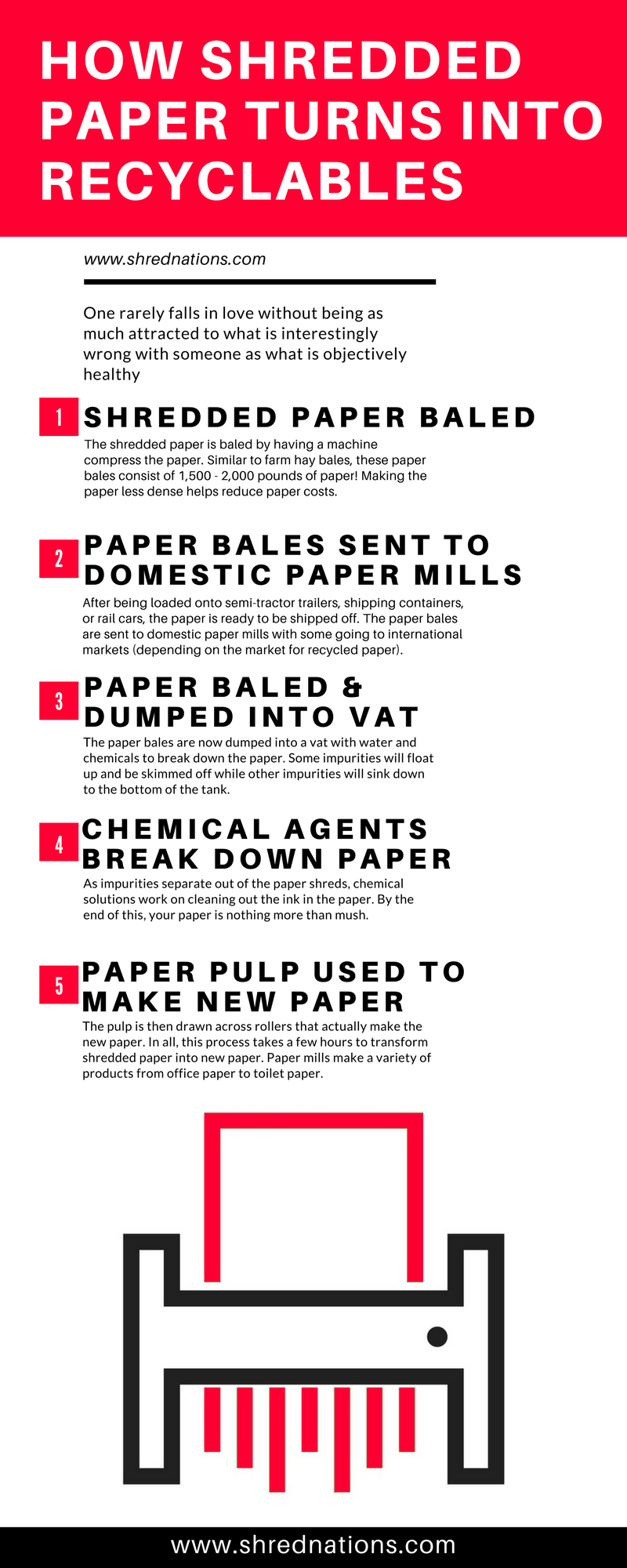 Shredded Paper Baled
The shredded paper is baled by having a machine compress the paper. Similar to farm hay bales, these paper bales consist of 1,500—2,000 pounds of paper. Making the paper less dense helps reduce paper costs.
Paper Bales Sent to Domestic Paper Mills
After being loaded onto semi-tractor trailers, shipping containers, or rail cars, the paper is ready to be shipped off. The paper bales are sent to domestic paper mills with some going to international markets (depending on the market for recycled paper).
Paper Baled & Dumped Into Vat
Paper bales are now dumped into a vat with water and chemicals to break down the paper. Some impurities will float up and be skimmed off while other impurities will sink down to the bottom of the tank.
Chemical Agents Break Down Paper
As impurities separate out of the paper shreds, chemical solutions work on cleaning out the ink in the paper. By the end of this process, your paper is nothing more than mush.
Paper Pulp Udes to Make New Paper
The pulp is then drawn across rollers that actually make the new paper. In all, this process takes a few hours to transform shredded paper. Paper mills make a variety of products from office paper to toilet paper.
Want to Help the Environment While Protecting Your Confidential Information?
At Shred Nations, our network of professional shredders works to ensure their paper shreds are transformed into recyclable goods. When you work with us to shred your documents securely, you can rest peacefully knowing you're also helping the environment!
Find out which of our shredding services best suits the size of your project by filling out the form to the right or calling us at (800) 747-3365. We will work with you to find the easiest solution to your document destruction needs.