An individual's health file contains more information about that person than anyone else should be able to see. If the wrong person were to get their hands on such private information, they would easily be able to take advantage.
To help prevent this possibility from becoming a reality, there are laws and regulations in place such as the Health Insurance Portability and Accountability Act (HIPAA) that require the proper handling and destruction of items containing any personal health information (PHI).
Though the label on a prescription bottle of medication does not list your entire medical history, there is just enough data for someone to go off of in order to further obtain as much information as they please. For this reason, there are shredding services that can accommodate any type of materials with PHI–even pill bottles.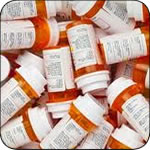 You may wonder why it is not common practice to simply strip the labels from the prescription bottles. Because the labels are normally underneath clear tape, this can actually be quite difficult and take up a lot more time than necessary. Instead, there are a few other steps you can take to ease the shredding process and eliminate having to strip the labels off one by one.

How to Prepare for Shredding Pill Bottles
Here are a couple of things you should make sure to do before sending in your pill bottles to be disposed of:
Although not required, it is a good idea to separate your bottles from your paper documents that need to be shredded. If your materials are not separated before being sent in, they will be sent to the landfill rather than being recycled, which can cost more.
Whether you have a separate bin for your bottles or just separate them right before sending them in, you will be doing your part to help the environment while saving a little bit of money by recycling.
This may seem like a no-brainer, but any medication left in the bottles must be removed before being sent over to the shredder. This can be harmful to the employees at the shredding plant.
If any medication is left in your prescription bottles, it will be shredded along with the rest of the materials. The pills will turn to dust, which may be dangerous for any of the employees that become exposed to it.
With so many pharmacies dispensing prescriptions across the nation, there is a constant need for shredding services for pill bottles. Shred Nations specializes in connecting you with a shredding contractor so that you can spend less time worrying about your destruction project.
Contact Us for Your Free Quote Today!
If you have prescription bottles or any other materials that need to be properly destroyed and disposed of, Shred Nations can get you started. From a large corporate hospital to a single individual in need, we can help to find you the best shredding contractors in your area.
For personalized quotes, fill out the form to the right or give us a call at (800) 747-3365. Within minutes of speaking with one of our agents, you will receive quotes from contractors that will provide secure and reliable destruction services for your project.