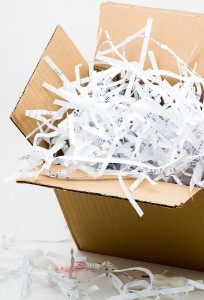 At this point we know that there are quite a few different ways to ensure your paperwork gets destroyed properly, but what are some of the things we need to know about drop off shredding?  Each service is going to have different policies, some of which you may or may not like, but for the most part, all drop off locations are going to have the same types of services.
When you take your paper to a drop off location, most locations will not shred everything right in front of you.  You will put all of your documents into a locked bin.  Depending on how often their contractor comes out, within the next week or two, the locations shredding contractor will come out, unlock the bin, and shred all of the documents inside.  Once this is done, you would receive a certificate of destruction for your records.
Most locations charge right around a dollar per pound.  Some locations will have a minimum fee if you only have a few sheets of paper that you need shredded.  Some locations will have a limit on how much you can drop off.  If you have more than a couple of boxes, your best bet would be to find a mobile service in your location.
99% of drop off locations will make sure that they work with contractors who recycle.  This is good, because once your paperwork is destroyed, the best option to continue ensuring your safety, is to have everything recycled.