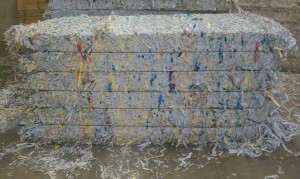 Have you been looking into shredding some of your sensitive documents?  Have you been struggling to find the best way to make sure that your documents get destroyed?  Well there are plenty of different options when it comes to shredding your paperwork, but only you know what the best way for you can be.  You always have the option to do mobile shredding or shred everything with a home shredder.  What about drop off shredding though?  When it comes to finding a location that can take your paperwork for you, and what they do with it when they have it, it can definitely be a little confusing.  Well let's go ahead and break down exactly how drop off shredding works!
First and foremost you have to have paperwork that you need shredded and you need to bring it into a drop off location.  Once you arrive they will go ahead and weigh how much paper you have.  Every location is different, but most places charge right around one dollar per pound.  After you have paid for the amount of paperwork you have they will take your paperwork and put it into one of their locked bins in the back.  These bins can only be opened by their mobile shredding contractor.  Each location will of course have their contractors coming out at different times, but once every week or so their contractor will come out and empty the locked bin of paperwork into their giant truck and the manager of the drop off location will watch everything being destroyed.  Once they have witnessed your paperwork being shredded they will go ahead and send you a certificate of destruction if you would like one.
Once the paperwork is shredded most contractors will actually recycle everything, but like I said, everyone will vary a little bit on how they work, but for the most part every drop off location has a pretty standard practice.  Always check to make sure that your drop off location follows all laws and regulations ahead of time!