Within minutes of receiving your request shredders will contact you:
Drop-off Paper Shredding Service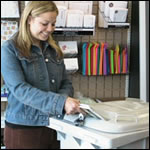 Search Dropoff Locations

Enter any or all of the fields below to search drop off locations in your area




The daily accumulation of credit offers and junk mail can quickly overwhelm the average home shredder. No one wants to spend their week end feeding a few sheets at a time into a paper shredder. No need to worry because we are here to help.

For volumes that are a couple of hundred pounds or more (enough to fill five standard file boxes) then the most economical solution is going to be having the shredding truck come out. That is also the only solution if your requirement is to witness the shredding.

When you have up to a few boxes there are two options. The most convenient is Ship 'n' Shred. That service will pick up the shredding at your location. But if you want the least expensive option then you can drop your shredding off at one of our drop off shredding locations. Just click the map to find the nearest one to you.
Drop Off Shredding Locations