Home & Residential Shredding Services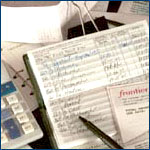 Identity theft is a threat to the financial security of your family. Shredding all your financial statements and mail is a precaution that every security expert recommends. Paper is still the most common method that thieves use to get your information.
For less than the price of buying a home paper shredder you can have a paper shredding service for your home. You get your time back, save money on shredder replacements, and we recycle all the paper.
Here are three solutions from a few boxes to a garage full.
Mobile Shredding Service: 4+ file boxes (100+ pounds) of paper. Shredding is done at your home while you watch.
Ship 'n' Shred Service: 1 - 5 file boxes (1 - 150 pounds) of paper and files to shred. Paper is picked up at your home and taken to a secure plant for shrdding.
Drop Off Shredding: 1 - 3 file boxes (1 - 100 pounds) of paper. Material is dropped off at convenient collection points.
If you need help choosing the best solution for your situation we are glad to help. Just fill out our contact form or give us a call at (800) 747-3365.Our goal is to get you the right solution based on your security needs and budget.