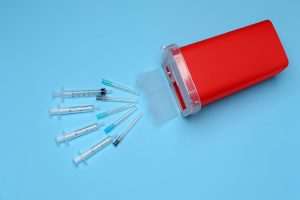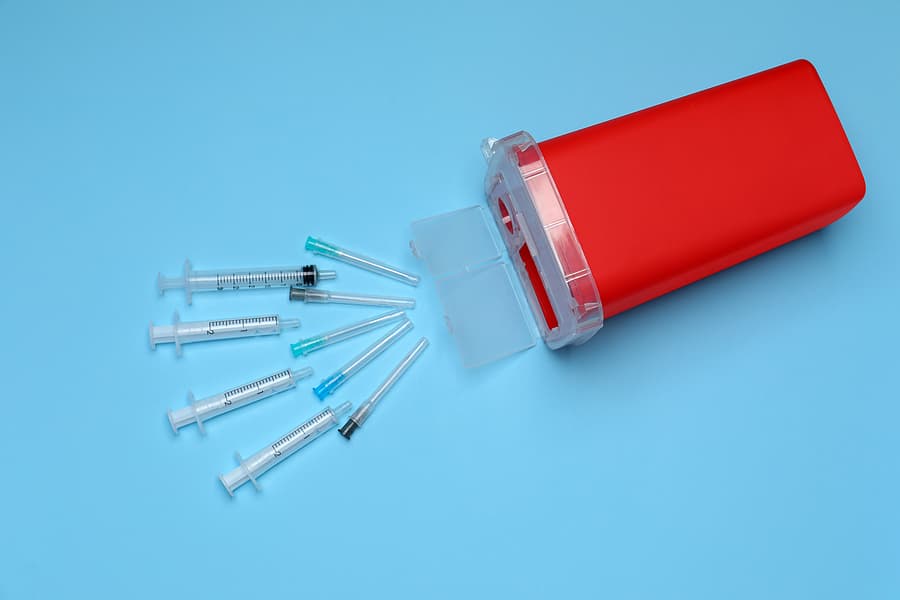 Sharps are used in homes and professional settings to manage medical conditions or provide services. These devices must be handled carefully to prevent injury and the spread of disease. Once used, sharps should be immediately placed in a safe disposal container and disposed of according to your state and federal guidelines.
Businesses, healthcare providers, and individuals that regularly handle sharps require sharps disposal services. Shred Nations can connect you with reliable providers in your area. We offer services in a variety of volumes to meet the needs of medical offices, tattoo artists, homes, and more.
Why Is Sharps Container Disposal Important?
Improperly discarded sharps pose a risk to sanitation, housekeeping, and janitorial workers; as well as pets, children, and other family members. Not only can used needles cause injury, but they can also transmit serious diseases. Proper disposal protects your community.
Here are some guidelines to safely handle sharps:
Never flush or throw sharps into the trash or recycling.
Do not overfill sharps containers.
Store containers away from food and other waste.
Keep containers out of the reach of children and pets.
Label containers as "Biohazard Infectious Waste" with the biohazard symbol.
Dispose of containers when they are full or no longer in use.
Types of Sharps
Sharps are medical items with sharp points or edges that could cut or puncture the skin. Examples of commonly handled sharps are:
Acupuncture needles
Auto-Injectors
Blood vials
Broken glass from laboratories
Capillary tubes
Connection needles/sets
Culture dishes and slides
Exposed ends of dental wires
Hypodermic needles
Infusion sets
Lancets/"fingerstick" devices
Pasteur pipettes
Razor blades
Root canal files
Scalpel blades
Suture needles
Syringes with and without needles
Trauma scene waste that can cut, slice, or pierce
Sharps Disposal Services
Drop Off Services
Drop-off services provide an easy disposal option that can be used at your convenience. Search for collection sites near you and drop off your containers during business hours.
Mailback Services
Mail-back services are a quick and affordable disposal option. We will help you safely package your sharps and schedule pickup as needed.
Large Quantity Services
If you have a large number of needles at home or you're a business needing disposal, Shred Nations can help. We have several medical waste disposal companies that can handle large quantities.
Get Rid of Your Used Needles with Secure Sharps Disposal Services
Shred Nations offers free, no-obligation quotes on sharps disposal services for your location. Simply, give us a call at (800) 747-3365, fill out the form on this page, or contact us directly with our live chat and you will be contacted within minutes with your free quotes.