Compliant Sharps Disposal & Management Services
Sharps are used in homes and professional settings to manage medical conditions or provide services. They are generally defined as any item that can prick, slice, or penetrate the skin or can puncture waste bags and cardboard boxes. Some common examples include hypodermic needles, syringes with or without needles, scalpel blades, lancets, auto-injectors, razor blades, acupuncture needles, etc.
These devices must be handled carefully to prevent injury and the spread of diseases, such as Hepatitis B and C and Human Immunodeficiency Virus (HIV). Once used, sharps should be immediately placed in a safe disposal container and disposed of according to your state and federal guidelines.
Businesses, healthcare providers, and individuals that regularly handle sharps require sharps disposal services. Shred Nations can connect you with reliable providers in your area. From supplying containers and mail-back systems to regularly scheduled pickups, our professional contractors will ensure you're compliant with all local, state, and federal laws. We offer services in a variety of volumes to meet the needs of medical offices, tattoo artists, homes, and more.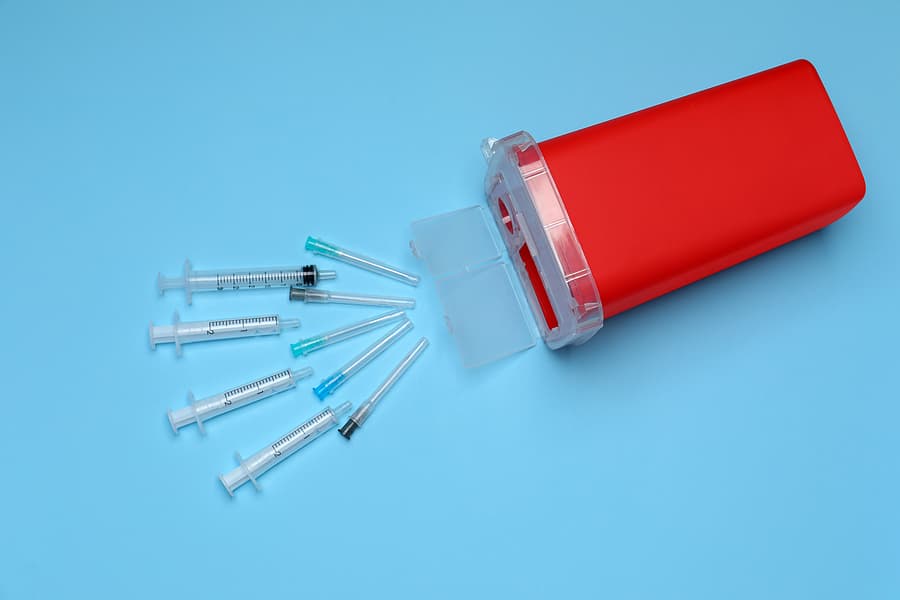 Sharps Container Disposal Guidelines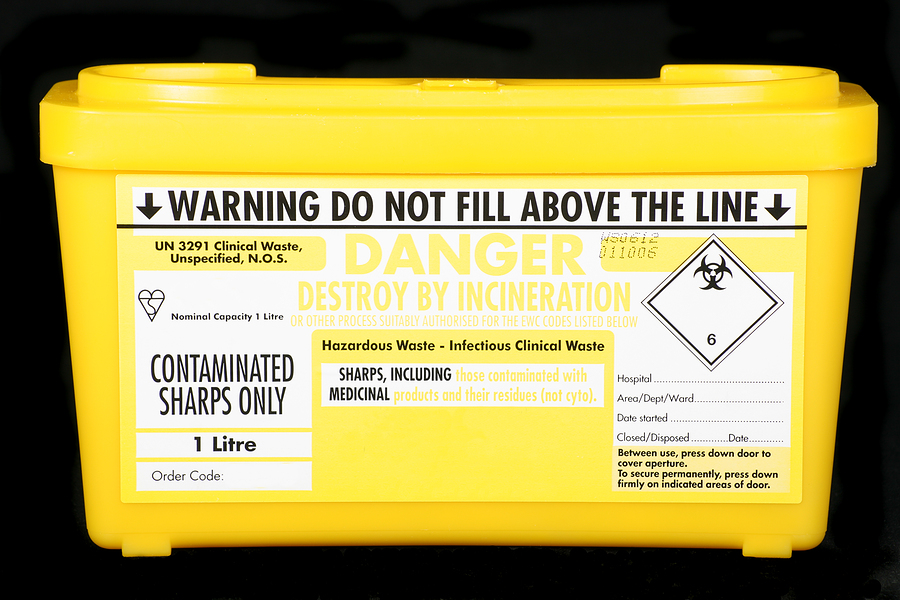 Improperly discarded sharps pose a risk to sanitation, housekeeping, and janitorial workers; as well as pets, children, and other family members. Creating a sharps disposal program requires planning, training, and implementation. Understanding the guidelines for proper sharps disposal will ensure that you are effectively managing your waste, staying within compliance, and minimizing risks to employees, customers, and family.
Here are some guidelines to safely handle sharps:
Never flush or throw sharps into the trash or recycling.
Do not overfill sharps containers. FDA-approved containers are marked with a line that indicates when it's time to dispose of them
Store containers away from food and other waste.
Keep containers out of the reach of children and pets.
Label containers as "Biohazard Infectious Waste" with the biohazard symbol.
Dispose of containers when they are full or no longer in use.
Sharps Disposal Services
Drop-Off Services
Drop-off services provide an easy disposal option that can be used at your convenience. Search for collection sites near you and drop off your containers during business hours. This is an affordable and easy option for small-scale sharps disposal.
Mail-Back Services
Mail-back services are a quick and affordable disposal option. We will help you safely package your sharps and schedule pickup as needed. The service provider will send you everything you need from the collection container to a prepaid shipping label. When your container is full, simply follow the instructions the provider sent you, mail it to the provider, and they will take care of the rest!
Large Quantity Services
If you have a large number of needles at home or you're a business needing disposal, Shred Nations can help. We have several medical waste disposal companies that can handle large quantities. They will collect your sharps at your location and securely transport them ti a certified medical waste treatment facility. Additionally, you can schedule pickups on a regular basis.
The Sharps Disposal Process
Learn the regulatory requirements in your area
Select safe sharps containers
FDA-approved containers are made from rigid plastic and are leak-resistant. The container should have a tight fitting, puncture-resistant lid and must remain upright during use. There are a variety of sizes to choose from so pick whichever one fits your needs.
Install and maintain sharps containers
Choose the location for your containers based on accessibility, convenience, and usage. Wall-mounted sharps containers should be within arm's reach and below eye level.
Dispose of sharps containers
Once your container(s) is full, contact Shred Nations so we can help you get the right service for your sharps needs, whether it's a drop-off, mail-back, or pickup service.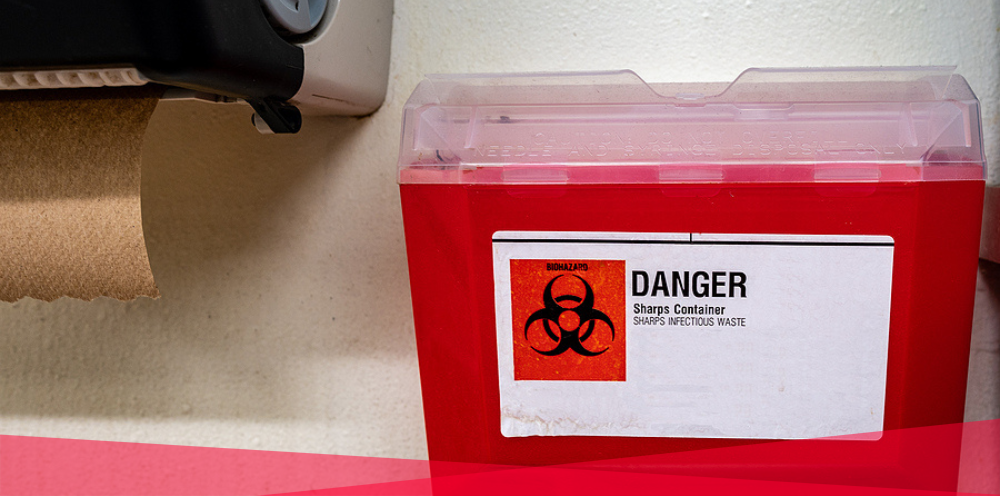 Security & Compliance
The sharps disposal process is regulated by OSHA as well as state and local governments. Educating and training your staff minimizes risks of mishandling and implements high safety standards for your company. Sharps containers that are FDA-approved and clearly labeled should be accessible, but out of reach to children and pets. When containers are three-quarters of the way full, they need to be disposed of according to your local guidelines.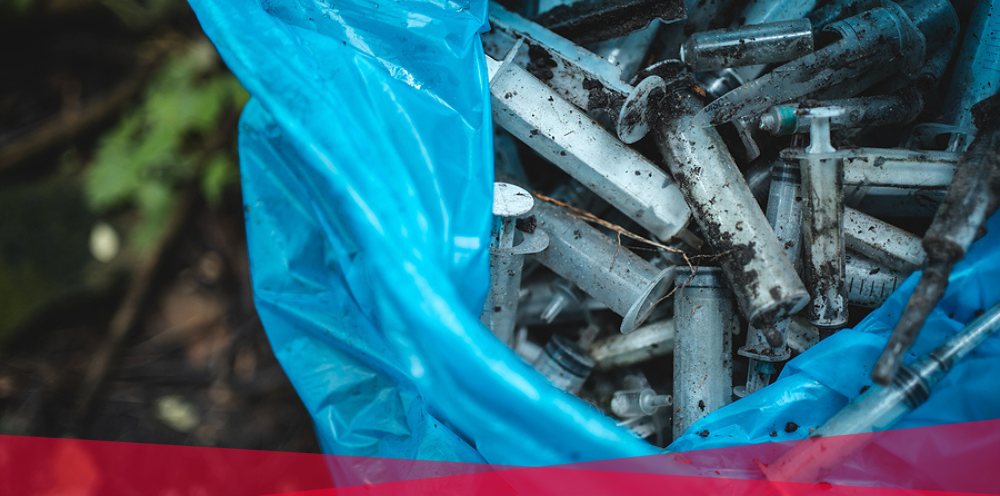 Environmental Responsibility
Using a secure sharps disposal service will keep you and your community safe from hazardous waste and the spread of disease. Using reusable sharps containers will help meet any sustainability goals you or your business may have. In addition, it keeps plastic from ending up in landfills that are overrunning our oceans, killing wildlife, and contributing to climate change.