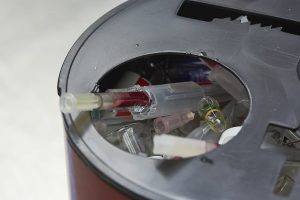 Regulated medical waste is a term that covers a wide variety of medical materials. It is sometimes referred to as red bag waste, biohazard waste, or infectious medical waste. It is any item contaminated with liquid, semi-liquid blood, or other potentially infectious materials (OPIMs) that could be released when handling.
Regulated medical waste requires segregation, special handling, and specific disposal. It must be handled carefully to prevent the spread of disease and to maintain compliance with local regulations. Materials are determined to be regulated medical waste by state and federal regulations and the OSHA Bloodborne Pathogen Standard.
Treatment and Disposal of Regulated Medical Waste
Proper management and disposal of medical waste is important because it poses a health risk to the public and waste workers. For example, contaminated needles can poke through garbage bags and poke workers, possibly transmitting serious diseases like HIV and hepatitis.
The goal of treating regulated waste is to render it noninfectious and safe for further handling and disposal. Incineration has long been used as a disinfection method, however, due to the negative environmental impacts, it is no longer recommended. Today, two methods are used:
Heat – steam autoclaves, microwave systems, dry heat, and hot air systems, or plasma arc

Chemical agents – chlorine compounds, ozone, alkali, or other disinfectants
Once the waste is rendered noninfectious, it can be disposed of with regular solid waste (with some exceptions).
What Are Some Examples of Regulated Medical Waste
Blood spill cleanup materials

Staples and wires (cardio-catheter wires)

Items saturated with blood or OPIMs

Dialyzers and tubing

Needles and syringes

Broken glass

Glass pipettes, slides, and tubes

Surgical specimens

Containers, catheters, or tubes containing blood, blood products, or OPIMs

Scalpel blades and lancets

Disposable suture sets and biopsy forceps

Microbiology specimens

Used culture plates, tubes, bottles, and devices
Contact Shred Nations to Dispose of Your Regulated Medical Waste
Shred Nations works with experienced and reputable contractors that can dispose of your regulated medical waste properly and in compliance with all regulations.
To get free, no-obligation quotes in just minutes, simply give us a call at (800) 747-3365, fill out the form to the right, or contact us directly with our live chat.