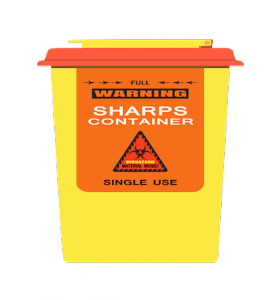 Medical sharps are a hazard to anyone who comes into contact with them, if they are not properly managed and disposed. Sharps disposal services can help eliminate contamination concerns including the spread of disease, illness, and pathogens in order to keep your organization safe.
Sharps Disposal Services
---
Sharps are relied upon by hundreds of thousands of people every day in the United States in order to utilize life-saving medicines. Conversely, once these sharps have been used, the issue of properly and safely disposing of these devices is created.
Sharps disposal services alleviate these worries by handling the disposal process for you.
Shred Nations has partnered with sharps disposal service providers all around the country to bring you safe and reliable disposal for all industries, including:
Physician offices

Hospitals

Urgent care facilities

Pharmacies
Rehabilitation facilities

Residential homes

Nursing homes

Police stations
Sharps Disposal Options
---
Sharps disposal services usually pick up sharps disposal bins on a regular schedule set by the location. The schedules can range from daily to once month, depending on the volume of sharps that normally accumulate.
There are also options to send your sharps for disposal by mail, in pre-paid packages that are made specifically to safely store medical sharps.
Free Quotes on Sharps Disposal Services in Minutes
---
Shred Nations offers free, no-obligation quotes on sharps disposal services for your location. Simply give us a call at (800) 747-3365, fill out the form on this page, or contact us directly with our live chat and you will be contacted within minutes with your free quotes.