Over the last few months, many things have changed, including medical waste. It's always been important to dispose of medical waste. However, it is even more critical now more than ever.
To keep people safe, waste disposal is critical. Additionally, the recent pandemic has changed how biohazardous waste is viewed altogether.
Biohazadous waste contains potentially infectious substances. To prevent further spread, infectious waste cannot sit around. While shifting to a virus ridden world, it's even more critical to dispose of infectious waste to protect the lives of everyone around.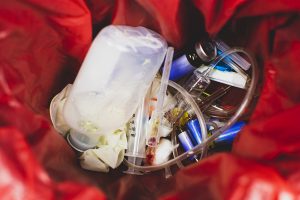 Types of Medical Waste
Biohazardous waste contains infectious substances. This can be many different things, including:
Discarded surgical tools and equipment
Bandages, gauze, gloves, and gowns
Items with dried blood and fluids
Blood soaked items
Cytotoxic waste
Pathological waste
Discarded vaccines
This list was prior to COVID-19. However, an expansion was needed to adequately include new, specific items.
The recent virus emphasizes the need to dispose of infectious waste. Additionally, any waste created during the treatment of a COVID-19 patient needs to be properly handled. These items may include
Needles and sharps
Material contaminated with bodily fluids like gauze, gloves, or gowns
Pathological wastes
Pharmaceutical wastes
How to Dispose of Regulated Medical Waste
It's important to dispose of waste for the protection of those potentially exposed. To prevent any further spread, disposal should be a regular practice.
National Law Review mentioned waste disposal companies should treat COVID-19 waste like any other hazardous waste. Additionally, other waste items, including municipal waste and waste water, can go through the same process as before because it's a sufficient process.
Specifically regulated medical waste, it needs to be placed in a designated red bad. This type of container is for biohazardous waste.
Over the course of time, the bins will begin to fill up with designated medical waste. After it's full, your waste provider will come to collect it and destroy it at a secure facility.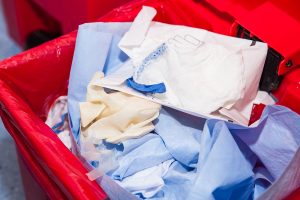 What Are the Different Treatment Types
There are different types of treatments for medical waste, and the treatment process is simple:
Medical Waste Treatment Steps
Prior to treatment, different types of waste are segregated and collected in separate containers.
Once containers are full, a provider collects the waste and takes it to a destruction facility.
Medical waste types are in compliance with OSHA using various methods including incineration, irradiation, autoclaving, and chemical disinfection.
Lastly, you'll receive a certificate of destruction detailing treatment date, location, and chain of custody to provide proof of compliance with laws like OSHA.
Connect with Medical Waste Providers Today
The disposal of regulated medical waste is important for the health and safety of everyone around. Now more than ever, the medical industry needs to continue to provide safe and secure environments for employees and patients.
Shred Nations can help you find the right disposal company for your needs. Additionally, we will make the process as easy as possible.
To start the process, fill out the form to the right, use the live chat option, or give us a call at (800) 747-3365. Afterwards, you'll receive a free, non-obligatory quote from providers near you.