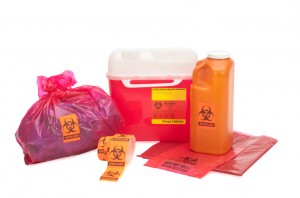 Medical and biomedical waste can be highly toxic and infectious to any person that comes into contact with it. Diseases are easily passed from bodily fluids and germs that are left behind on a multitude of medical apparatus and materials. Often infectious disease can be passed from gloves, clothing, bedding, needles and other medical tools.
Medical waste disposal companies can help discard of all medical waste without risking that disease and infection are transferred from one person to the other or from location to location. Our group of partners use the most up to date practices to ensure that your medical waste is transferred safely to the proper destruction facility.
Shred Nations specializes in medical waste disposal and biohazard waste disposal. We can arrange to have your medical waste picked up and securely disposed of in our certified facilities. In addition, we can provide a certificate of destruction to show that our biohazard waste disposal service has properly disposed of all of your waste.
Our Medical Waste Disposal Service disposes of the following:
Pathological & Anatomical Waste – this includes human tissues, organs or other body parts removed during surgery, autopsy, research studies or birth.
Blood Products – blood waste including serum, plasma and other blood components.
Infectious Materials (OPIM) – body fluids including: semen, vaginal secretions, synovial fluid, etc.
Microbiological Waste – cultures, culture dishes, inoculate cultures, mix cultures, stocks and specimens.
Sharps – hypodermic needles, scalpels, syringes, capillary tubes and razor blades.
Animal Waste – carcasses, body parts, bedding and other infectious waste.
To get a free quote call (800) 747-3365 today or fill out the short form on the right hand column.