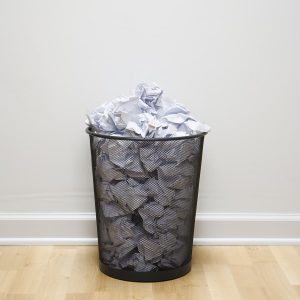 General waste refers to waste items that cannot be recycled, but that does not pose an immediate hazard to health or the environment. Homes and businesses create general waste that should be disposed of properly to keep the community clean. Waste removal is essential for the upkeep of any property, home, and business.
Shred Nations offers general waste pick-up services for residential, commercial, and industrial customers. We partner with experienced waste removal providers across the country. Our wide range of options covers general waste removal for a variety of situations. Whether you need recurring services or a one-time dumpster rental, we have services to fit your needs.
What is General Waste?
Common materials classified as general waste are:
Medical Records

Non-recyclable plastics – plastic bags, plastic wrap, beverage rings, polythene

Non-recyclable metal items – chemically-coated kitchenware, paint cans

Ceramics – mugs, crockery, ornaments

Packaging materials – bubble wrap, padded envelopes, coated wrapping paper, waxed cardboard, and polystyrene packaging

Food waste, containers, and wrappers

Cleaning materials – paper towels, wet wipes, vacuum dust, and other non-hazardous cleaning materials

Other non-recyclable home and office waste – clothing, diapers, toys, soiled paper, rags, etc.
General Waste Disposal
General waste incorporates a wide range of materials that should be collected and disposed of by professionals. There are 3 main methods for general waste management – landfills, incinerators, and recycling. Landfills are the most common method, but cause contamination to the soil, water, and air. Incineration reduces the accumulation of trash but can release harmful gases in the burning process.
Reducing waste and recycling whenever possible are highly encouraged. Shred Nations can help you build a waste management system to include sustainable practices and general waste removal. Contact us to begin today.
Get Free, No Obligation Quotes on Waste Management Services Today
Shred Nations will connect you with high-quality waste management professionals in your area. We are happy to answer all of your questions and find waste removal services to fit your needs. Start the process by giving us a call at (800) 747-3365 or filling out the form. Within minutes, you will receive free quotes from waste management specialists near you.