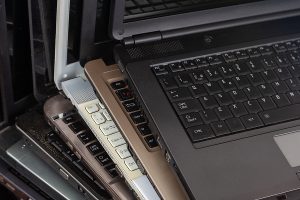 Data security is of the utmost importance in a world where breaches seem to happen on a daily basis. With the possibility of fines and reparations, there is no room for mistakes. One way to protect your information as well as ensure compliance is through old IT equipment disposal.
This IT equipment needs to be disposed of properly just like other items because it can hold valuable information. Additionally, there are many regulations surrounding the world of electronics disposal which is why a disposal service simplifies this for you.
What Is ITAD?
---
IT asset disposition, or ITAD, revolves around disposing of old equipment in a secure and environmentally-friendly way. This disposal method seeks to get rid of old equipment while getting your security needs and properly handling retired assets.
ITAD items can include computers, desktops, servers, printers, wiring, and more. Shred Nations offers secure e-waste and disposal services which help with security, sustainability, and compliancy.
The IT Asset Disposal Process
---
Proper disposal ensures your data will remain completely confidential, while being secure and convenient. Here's how it works:
You collect your old equipment for disposal and recycling.

The secure truck comes to your location to pick up the old equipment when requested.

Your equipment are transported to an off-site facility to be broken down through destruction to ensure the IT data is gone.

You will receive a certificate of destruction for your records, including FACTA and HIPAA compliance.

The recyclable parts are taken to a facility for reuse.
Environmentally-Friendly Recycling
---
Electronics contain a lot of harmful toxins and improper disposal can have them ending up in landfills or the ocean. Additionally, it's critical to properly handle all electronics disposal for compliance reasons. EPA and state hazardous waste requirements require the proper disposal of electronics.

Get Free Quotes on IT Asset Disposition
---
Since 1999, Shred Nations has been helping businesses and individuals nationwide with the IT asset disposition and disposal. Our network of service providers are local and ready to help no matter what your need is. Additionally, we'll make the process as easy as possible for you.
Start the process by filing out the form on this page, using the live chat button, or giving us a call at (800) 747-3365. Afterwards, you'll receive a free, non-obligation quote from local providers.