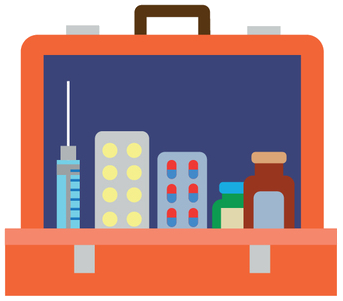 Properly disposing of medical waste and keeping different types of medical waste separated keeps your workspace and the environment clean and safe.
The EPA Resource Conservation and Recovery Act strictly regulates the disposal of hazardous pharmaceuticals, and can impose fines and punishments for not following strict disposal procedures.
If your organization produces hazardous pharmaceutical waste it must be disposed into a properly sealed and labeled blue container.
Blue Container Medical Waste Defined
---
Hazardous pharmaceutical waste, or items on the RCRA's P and U lists, must be placed in clearly labeled, secure blue bin waste containers.
If possible, return all blue waste items to their original packaging before placing them in the bin.
Items to place in blue waste containers include, but are not limited to:
Nicotine

Warfarin

IV solutions

Syringes with more than 10% contamination

Vials with more than 10% contamination

Inhalers

Pills and capsules

Unused hot/cold packs
Due to the types of materials that make their way into blue waste bins, these containers are typically fairly small, ranging from 2 – 20 gallon capacities depending on your needs.
Get Free Quotes on Hazardous Pharmaceutical Waste Disposal Services
---
Safely and correctly disposing of medical waste ensures you are protecting the environment and keeping your office clean, safe, and compliant.
Shred Nations has a network of medical waste disposal experts across North America. Call us today at (800) 747-3365 or fill out form to be connected to pharmaceutical waste disposal service providers in your area.