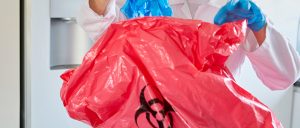 Medical and biomedical waste can be highly toxic and infectious to any person that comes into contact with it. Infectious diseases can often be passed from gloves, clothing, bedding, needles and other medical equipment. It's important for safety regulations and standards to dispose of medical waste properly, and medical waste disposal services makes the process easier.
Proper Medical Waste Disposal
---
Medical waste disposal companies help discard all the medical waste that your organization produces without risking the transfer of diseases and infections. Our medical waste disposal partners take care of all your medical waste disposal needs including:
Shred Nations specializes in medical waste disposal and biohazard waste disposal. Shred Nations can arrange to have your medical waste picked up and securely disposed of in our certified facilities. As always, we offer a certificate of destruction for all medical waste disposal services.
Compliant Services
---
Regulated medical waste disposal can be a complicated and time-consuming process, however, Shred Nations has a nationwide network of local service providers that have the expertise and know-how to safely dispose of all your medical waste. Our service providers are locally-based and operated, meaning they have the expertise and relevant experience for medical waste disposal in your area.
Disposal for All Types of Medical Waste
---
Our medical waste services disposes of the following:
Pathological & Anatomical Waste – human tissues, organs or other body parts removed during surgery, autopsy, research studies or birth.
Blood Products – blood waste including serum, plasma and other blood components.
Infectious Materials (OPIM) – body fluids including semen, vaginal secretions, synovial fluid, etc.
Microbiological Waste – cultures, culture dishes, inoculate cultures, mix cultures, stocks and specimens.
Sharps – hypodermic needles, scalpels, syringes, capillary tubes and razor blades.
Pharmaceutical Waste – medications, substances such as nicotine or warfarin, bulk powders, etc.
Chemotherapy Waste – pathological chemo waste, P-listed substances and containers, PPE and cleaning materials, etc.
Free, No-Obligation Quotes from Shred Nations
---
Shred Nations works with a network of local medical waste disposal services to keep your organization compliant with all rules and regulations.
Within minutes of receiving your inquiry, we'll contact with you free, no-obligation quotes on the appropriate medical waste disposal services to choose from. To get started, simply give us a call at (800) 747-3365, fill out the form on this page, or contact us directly with our live chat.