With the world continually evolving in technology, businesses and individuals update their technology to have more efficient equipment. However, the question now becomes what to do with the old equipment. IT asset disposition helps to dispose of old, unwanted equipment.
It's important to get rid of old equipment properly for compliance reasons as well as security purposes. With old IT equipment, there is personal data on them. Moreover, it's important to remove this information to prevent any theft or breaches.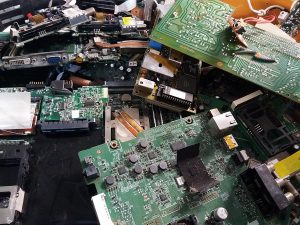 What Is ITAD
IT asset disposition, or ITAD, is the process of disposing of old equipment in a secure and environmentally-friendly way. Additionally, this disposal method seeks to get rid of old equipment while satisfying your security needs and properly handling retired assets.
What Is the Process of ITAD
It's important to handle assets correctly and efficiently. The overall process is simple and focuses on maintaining security as well as proper destruction:
After getting started with a provider near you, the items are picked up at a convenient time selected by the customer.
There is a secure chain of custody throughout the whole process by tracking items.
The items are transported by a truck equipped with extra security measures and tracking. Additionally, the truck transports them to a secure facility.
Once there, the items are scanned in and prepared for transportation to a world class processing facility.
After arriving at the processing facility, the assets go through a reviewing, processing, and sorting process.
Assets are safely destroyed and pieces are recycled according to all legal requirements.
Afterwards, you will receive a certificate of destruction which is proof the assets went through the process.
Do I Have IT Assets to Dispose
An IT asset is any item with software or hardware within an information technology environment. Additionally, there are many items which group under ITAD equipment, including:
Computers
Desktops
Servers
Printers
Wiring
Fax Machines
Scanners
Hard Drives
Backup Tapes
DVDs/CDs
Microfilm/Microfiche
Shred Nations offers secure electronic waste disposal services which help with security, sustainability, and compliancy. Additionally, you can choose what item you want to get rid of, and we will safely dispose of them.
Need Help Disposing of Your IT Assets? We Can Help
It's important to securely get rid of your old equipment for compliance standards as well as security for your data. If you need disposal assistance, Shred Nations can connect you with the best provider near you. Additionally, we'll make the process as easy as possible for you.
To start the process, fill out the form to the right, use the live chat option, or give us a call at (800) 747-3365. Afterwards, you'll receive a free, non-obligatory quote from providers near you.