Security and privacy are a huge concern for every business. Any information that relates to a company and its customers' needs to be protected. Selecting a shredding company is a very important step to protecting your company and for your document management plan.
Once you have a plan, the next step is selecting the right shredding company for the needs of your business. If you just need a quote, fill out the form to the right. If you have more than just a pile of documents that needs shredding, there might be a few other items to consider, including:
That's where you need to consider selecting a NAID Certified shredding company. This certification ensures that the shredding company you hire in compliance and that your documents are secure before, during and after they're destroyed.
Who is NAID?
Developed by information security professionals and recognized by thousands of private and governmental organizations around the world, NAID, also known as the National Association of Information Destruction, is the standards setting body for the information destruction industry.
Their mission is to promote the information destruction industry and the standards and ethics of its member companies. They're also responsible for maintaining and monitoring the NAID AAA Certification. This helps define which member companies have taken the proper steps to ensure your documents and records are destroyed properly and securely.
Getting a NAID AAA Certification
Becoming NAID AAA certified is so much more than paying a fee and getting a slip of paper.  A NAID AAA Certification verifies the qualifications of certified information destruction providers through a comprehensive scheduled and unannounced audit program.
The NAID AAA Certification is voluntary. It includes companies that offer destruction services for mobile and/or plant-based operations. Additionally, it includes paper or printed media, micromedia, computer hard drive destruction, and/or computer hard drive sanitization.
This certification and audit process helps companies meet numerous laws and regulations requiring protection of confidential customer information, including HIPAA, FACTA, and PCI compliance.
The Criteria
Here's just a few items included in the exhaustive, comprehensive criteria that a shredding company has to adhere to achieve and sustain AAA-NAID-Certification:
Conduct background investigations prior to hiring employees
Conduct county-by-county criminal record searches where the employee has resided for the previous seven (7) years
Require new employees to sign confidentiality agreements
Require drivers to meet all applicable licensing requirements
Conduct drug screening at the time of hiring and at random
Secure customer materials from unauthorized access before destruction
Transport customer materials properly during the time from customer custody to destruction vehicle to prevent any breaches of information.
Maintain written policies and procedures for drivers and assisting employees
Require employees to wear uniforms and picture ID badges
Ensure all customer materials remain secured and in the control and custody of the NAID member agent until destroyed by shredding equipment
Require all fleet vehicles meet the United States Department of Transportation (DOT) regulations and have lockable cabs and cargo area
Require all paper shredded meets original equipment manufacturer (OEM) specifications of: continuous shred, indefinite length, and 5/8″ cutter width or less
Conduct comprehensive third party background checks on owners and officers of companies
More About NAID
ASIS International accredits NAID certified auditors. They verify that protocols are in place to ensure the security of confidential material throughout all stages of the destruction process are done responsibly. This includes handling, transporting, storing materials prior to destruction, and destroying and disposing of materials. This also includes any transfer of custody scenarios.
Click here to see a list of NAID Certified Shredders throughout the world.
Employees of these companies are put through an extensive, three-level background screening process. This verifies that no individual with a known history of related crimes will handle confidential material.
In addition, a regimented, comprehensive, unannounced audit program provides a powerful motivator for ongoing compliance. It ensures that certified companies operate knowing they may receive an unannounced audit on any day, at any time.
If a company is found to be non-compliant, a Certification Review Board takes immediate remedial action to bring certified companies back into compliance. Repeat or serious infractions will result in fines and may result in removal of certification.
Click here to read more about NAID and the certifications they offer—there are two types of certifications for businesses—one for single locations, and one for multiple locations.
To learn more about NAID, check out this 9-minute video below.
NAID AAA Certification: Beyond the Claims and Promises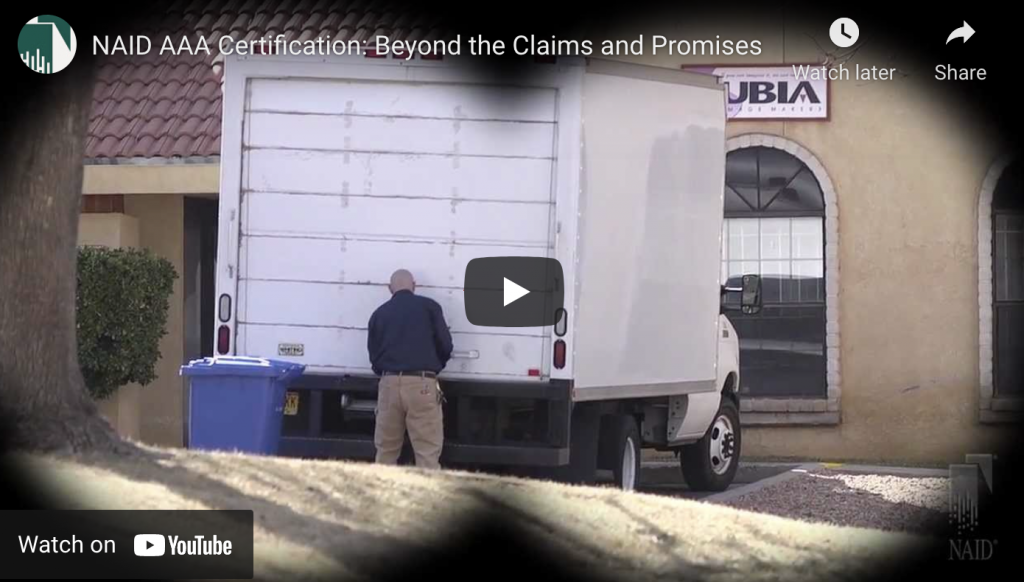 Looking for a NAID Certified Shredding Company? Shred Nations Can Help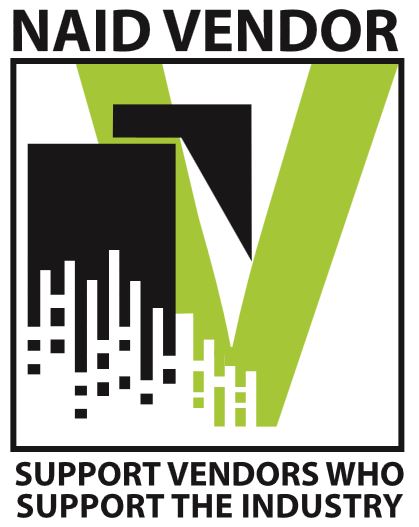 As a vendor member of NAID, Shred Nations specializes in finding the right secure shredding service for your businesses' needs. We can set up a program to provide weekly service for all of your offices around the country. If you are just cleaning out the storage room on an annual basis, we can help with that too!
No matter how you destroy your paperwork the most important thing is to make sure that it is destroyed in a secure manner and in accordance with privacy laws.  All of our secure shredding services come with a certificate of destruction so you know your documents are destroyed. Most of the time you actually get to witness the shredding process.
If you're looking for a quote on document shredding services, please fill out the form to the right, give us a call at (800) 747-3365, or contact us directly with our live chat.
Within minutes of receiving your request, you will receive quotes from experts in your area. They will help you select the contractor that fits your situation and your office best.