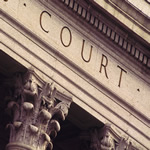 One of the major factors for how or when you shred the documents in your office are the laws that affect your company or your industry, and the security protocols you have set in place.
Understanding all the different types of risks and how the different laws in the United States can affect the way you should retain and shred documents is critical in case your company is involved in a a lawsuit or if you're audited.
Learn more about document destruction laws, compliance, and security measures you can employ to ensure your company doesn't experience a data breach.
Click any of the titles below to learn more!
The concept of protecting the privacy or ordinary citizens did not gain prominence in the United States until the beginning of the information age.  The problem came from the rise of identity theft.  Leadership in privacy issues came from the U.S. Congress with the acts included in this article.
Within the past few decades, state and federal laws have changed the data destruction landscape.  The guidelines set in place have made the disposal of all materials more secure and reliable for everyone.
Business owners relying on their employees to shred everything with sensitive information better get a good haircut. It is only a matter of time before they make their television debut.
This article will help you evaluate what type of shredding you require for your business- keep in mind that a mobile shredding service or offsite shredding service will shred your documents and co-mingle them with other businesses, making it even more difficult for your information to be compromised.
It is time to evaluate your defenses for a low-tech hacker.  Look around your office; do you keep sensitive information sitting on your desk overnight?  Are all of your file cabinets kept locked?  How about your documents waiting to be shredded?  Are they in a recycle bin or worse, put in the trash?  Most offices throw a treasure trove of information out every night.
Do you need secure Document Shredding or Electronic Media Destruction?  Shred Nations can help!
Whether you're looking for secure mobile shredding services or electronic media destruction, Shred Nations can help you find a NAID Certified provider in your area.  Our trained staff of specialists that can help you decide the best course of action for your project.
Our network of contractors allows us to come to your location if you need to ensure a proper chain of custody, and you will be provided a certificate of destruction that details when and where your documents or electronics were destroyed.
To get started, fill out the form to the right, or just give us a call at (800) 747-3365 for FREE, NO OBLIGATION QUOTES IN MINUTES!