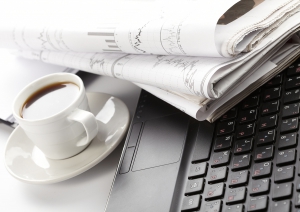 There is no question – appearing on the first page of a search engine is a standard test of success. While the giants of the shredding industry continue to dominate page one, an opportunity arises for independently-owned shredders to compete online.
One conundrum to the internet is that anyone with a computer claims to understand it. In reality, the "masters" have more unanswered questions than a novice – the more you know, the more questions you seem to have. What all users have it common, however, is that when they say, "I understand the internet," they, in a sense, mean it.
The internet world "above the fold" is perhaps one of the hardest and most complex topics. Before getting too far down the line, it's important to understand a few basic terms and concepts of digital marketing to understand the significance and relationship each has in driving results.
Important Terms and Concepts
Clicks

– clicks generate cost based on an adwords bid and traffic. They are an initial measure for website success. The cost-per-click is a function of a bid, a quality score, and what competitors are bidding for in the same adword.
Click-Through-Rate (CTR)

– CTR measures visitors to a website from a specific link.
Call To Action (CTA)

– CTA changes based on what a company wants to achieve. Essentially, this is the behavior you want a site visitor to complete. A CTA can include calling a phone number, filling out a form, sharing an article, etc.
Conversions

– conversions measures site visitors who act on the CTA listed above.
Revenue

– revenue is self-evident and is a result of conversion producing finalized business. Not all conversions produce revenue, and only a small percentage of clicks produce results.

Remember – the ultimate goal is revenue, not clicks.
It is equally as important to remember that for each keyword, a unique page one is created with a varying number of positions on each page. Page ones for the same keyword can differ based on location, day, and time-of-day.
Shredding Giants are Dominating Page One
Large public companies have insurmountable advantages to this, with large SEO capabilities, budgets, and nationally recognized brands. A test was done by Shred Nations, looking at a specific major U.S. city search engine with 20 positions available on page one.
On this page, 10 different independently-owned shredding companies occupied only a third of the space. Additionally, these spaces were on the second half of the site page, for a 3.3% average space given to an independently-owned shredder.
With that being said, it's hard to imagine a small, independent shredder winning the competition for this space.
Embracing the Power of Digital
Three primary reasons exist why independently-owned shredding companies should feel empowered by the wave of digital marketing.
Exploit pricing and service weaknesses

– Small shredding companies cannot change their size, nor can they impact the size of the larger shredding companies in the industry. However, the giant size of large shredders is often paired with rigid pricing rules, often the industry's highest, with no ability for their salespeople to deviate. Each time a customer isn't happy with their experience, whether it be price or delayed service, a negative review is placed online impacting the large company's image and sales. By offering operational excellence to their customers, small shredders reach better success rates with transforming one-time customers into long-term.
Pockets of customers emerge as the result of shredding giants

– Large shredding companies are selective in the customers they want. While big budgets enable superior SEO and click through rates, it's what they do with the clicks that matters. It's easy for smaller shredding companies to prosper from the "rejects" of giants. Two to four small customers clustered together can be far more profitable than one large customer.
68 percent of people searching for shredding services are Millennials and Gen-Xers

– It's no surprise this age group is searching for shredding services online. Small shredding companies have the opportunity to develop differentiated websites from the shredding giants, offering a friendlier, more local, approach to interacting on the web.
Shred Nations – A Hidden Source of Profit
Shred Nations does not provide clicks or click-throughs. Instead, it dominates the web and provides shredding companies that are part of its network fully vetted referrals from customers with an immediate need for shredding in their local service area. The cost of a referral ranges from $10.99 to $42.99 depending on the size of the customer's shredding needs.
In addition to actionable information, Shred Nations uses on-demand marketing strategies. Its extreme speed in response accounts for extraordinarily high closing rates. Repeated studies show that an 80% closing rate is experienced within the Shred Nations network. Let's face it, it takes a lot of clicks to match this performance.
The cost for an independently-owned shredder to reach page-one would be extraordinarily high. This is why Shred Nations does the competing to be above the fold for its network of shredders, and as a result, allows their network to minimize its marketing costs and concentrate on what's important – the customer.
Learn more about what Shred Nations offers our members, call our Membership Hotline today at (303) 309-0154, or click here to fill out our form