More and more businesses today are scanning documents and going digital, but doing so raises a new question—what are you options for disposing old paper copies?
It's most common to shred documents either by yourself or through a shredding service before you dispose them, but with scanning services instead of having to do it yourself or find a shredder, scanning providers can handle the shredding for your old documents.
To learn more about the benefits of combining scanning and shredding, watch the video or read the transcript below.
Video Transcript
Top Reasons Why Companies use Scanning
Time

Employees spending 10-15 minutes per day finding and refiling paper records may seem small, but multiply that by the number of employees and over the course of a year, and the cost of that wasted time can quickly stack up.
Space
Office real estate is a valuable commodity, and naturally everyone is looking for the best bang for their buck.
By scanning records and going digital, old space used for storage can be used for better purposes.
Security
Considering the recent increases in data theft and breaches, digital document management systems (DMS) can provide extra securities like file encryption and tiered access controls.
Legal
When it comes to legal compliance and document management, laws like HIPAA and FACTA have specific requirements like retention tracking that digital document management systems can help to simplify.
The Scan & Shred Process
Using a scanning provider to make the digital transition ends on a secure note, as they can also handle shredding for you as well.
While it's a benefit that's often overlooked, most scanning facilities either have an industrial shredder or partner with a shredding provider, meaning after your documents are scanned, the provider can take care of the shredding for you as well.
You collect the records you need scanned.

Records are taken to an

off site scanning facility

Records are scanned and OCR & redaction software is applied

New digital files are implemented and indexed in a DMS

Old paper copies are shredded—many facilities have industrial shredders on site
The Benefits of Shredding Plus Scanning
Convenience
Besides the convenience of digital documents versus papers, scanning also streamlines taking security steps like shredding since providers already have an on-site industrial shredder.
Cost Efficiency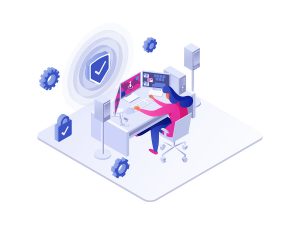 Scanning removes multiple costs like storage space, time, and basic resources like paper.
By having a scanning provider shred your files as well, you'll also save on other costs like the time to shred or the space to store scanned paper.
Safety & Security
Scanning opens the door to extra security like encryption and access controls. Besides those digital securities though, having scanning providers shred files as soon as they're scanned will also drastically reduce chances for data theft.
What's Your Plan for Shredding What You Scan?
Shred Nations partners with reliable scanning and shredding providers across the United States. To improve your security and get started with combining shredding and scanning, fill out our form, give us a call at (800) 747-3365, or contact us directly with our live chat for a free, no-obligation quote from providers in your area.