Medical waste can be harmful and aid in the spread of infectious diseases. In order to protect patients and employees, medical waste needs to be properly disposed.
Watch the video below or read the following transcript for a guide on proper medical waste disposal.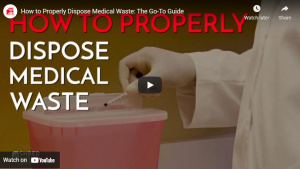 Video Transcript
What Is Medical Waste
Medical waste is generally defined as any potentially infectious material produced at health care facilities like hospitals and physical offices.
Common types of medical waste include:
Anatomical/Pathological waste

Bandages, gloves, and other supplies

Microbiological cultures and stocks

Sharps

OPIMs

Blood products
Reasons to Prioritize Proper Medical Waste Disposal
Legal – Maintaining compliance with OSHA guidelines for how to manage and dispose medical waste helps to reduce legal liabilities.
Health – Properly collecting and disposing waste helps to minimize potential infection risks from contaminated materials.
Environment – Using proper treatment methods like incineration helps to keep hazardous medical waste out of landfills and oceans.
Medical Waste by the Numbers
On average staffed hospital beds produce 33 lbs of waste per day, meaning 5.9 million tons of waste is generated in the U.S. each year.
Collect and Separate Medical Waste
There are a range of medical waste types like sharps and pharmaceuticals, and since each is treated and disposed differently they also need to be separated and collected in different containers.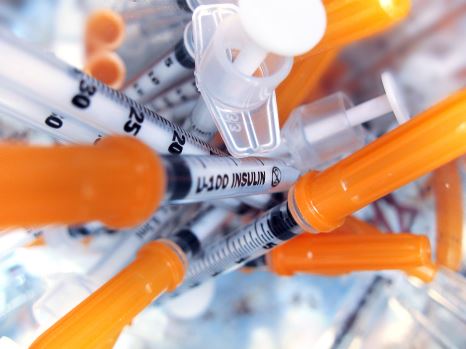 Sharps are one of the most common types of medical waste as they are used in numerous places for a variety of reasons.
Sharps need to be separated and disposed in an individual container at facilities like:
Hospitals

Urgent Care Facilities

Rehabilitation Facilities

Residential Homes

Nursing Homes

Physician Offices

Pharmacies
Red bag disposal is designated specifically for biohazardous waste (also known as potentially infectious waste).
Medical waste designated for red bag disposal includes:
Discarded surgical tools and equipment

Bandages, gauze, gloves, and gowns

Items with dried blood and fluids

Blood soaked items

Cytotoxic waste

Pathological waste

Discarded vaccines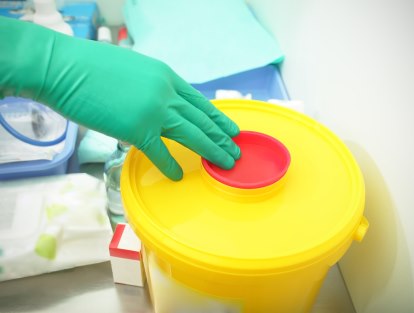 Yellow waste containers are used for trace chemotherapeutic waste that's considered "RCRA empty" according to the EPA standard.
"RCRA empty" means that the materials are empty and have less than 3% of their original volume remaining. This typically includes:
Empty ampules and vials

Empty syringes and needles

Empty IV bags and tubing

Gowns, gloves, and aprons

Used wipes and packaging
While yellow is used for trace chemo waste, black containers are designated for chemotherapeutic waste that's not "RCRA empty."
Also called "bulk" waste, common types of RCRA hazardous waste include:
Half/partial medication doses
Partially used vials, bags, and IV tubing
P-listed substances and containers
Pathological chemo waste
PPE and cleaning materials
Blue containers are used to collect pharmaceutical waste that's defined as hazardous by the RCRA.
Types of hazardous pharmaceutical waste are defined by the RCRA's P and U lists, and include drugs such as:
Warfarin
Nicotine
Cyclophosphamide
Lindane
Bulk powders
Expired/unused pills and injectables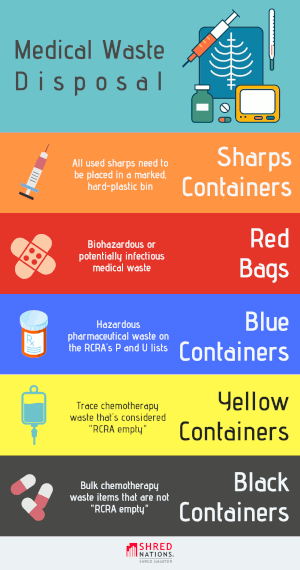 How Waste Treatment Works
Once bins are full each waste type needs to be destroyed and disposed of differently using various treatment methods like incineration, irradiation, and autoclaving.
Medical Waste Treatment Steps
Prior to treatment different types of medical waste are segregated and collected in separate containers.
Once containers are full, they're picked up and transported to a treatment facility.
Medical waste types are treated in compliance with OSHA using various methods including incineration, irradiation, autoclaving, and chemical disinfection.
Last you receive a certificate of destruction detailing treatment date, location, and chain of custody to provide proof of compliance with laws like OSHA.
Need to Improve Your Waste Disposal Process?
Using a medical waste disposal provider helps make disposing potentially hazardous materials safe and compliant.
Shred Nations partners with reliable destruction companies across North America. Call us at (800) 747-3365 or fill out our form for free quotes from medical waste disposal companies near you.