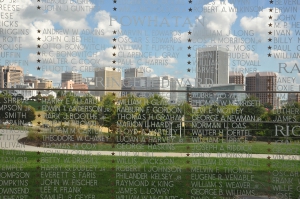 Shred Nations Richmond offers shredding and media destruction services to homes or businesses all throughout Richmond, VA and its surrounding areas.
We can provide you with quotes for services from mobile shredding to offsite shredding. We strive to provide fair, competitive quotes for any service you require, so let us help to find you an ideal document destruction service to match both your needs and budget.
Our shredding services include:
We locate the closest shredding companies to your Richmond location and provide you with free no-obligation quotes for any of your shredding needs.
Document Shredding and Data Destruction Services Provided Throughout Richmond and Virginia
Our mobile shredding services conveniently send a truck to your facility and shred your documents on site. You can witness your documents being shredded while you watch, without having to leave the comfort of your office.
Offsite shredding is designed for larger shredding projects that do not need to be witnessed. An offsite shredding facility sends a truck to pick up your documents before delivering them to a secure offsite shredding plant to be destroyed.
Confidential information on hard drives, DVDs, and microfilm should be completely destroyed. Personally identifiable information on these types of media put you at risk for identity theft and lawsuits. That's where a secure Richmond data destruction company comes in with the help of hard drive shredding and electronic media destruction services to ensure your information is entirely destroyed and secured.
Shred Nations Richmond offers mobile shredding, offsite shredding, electronic media destruction, and more! Just give us a call at (804) 417-4781, or simply fill out the form to the right. We'll find you a local document shredding service in Richmond at a good price to fit your budget.
Relevant Laws and Regulations in Richmond and Virginia
§ 42.1-85. Records Management Program: The Library of Virginia shall administer a records management program for the application of efficient and economical methods for managing the lifecycle of public records consistent with regulations and guidelines promulgated by the State Library Board, including operation of a records center or centers.
Virginia Public Records Act: This law establishes a single body of law for both public officials and business entities alike, outlining public records management policies with the design of ensuring that the procedures used to manage and preserve public records will be uniform throughout the Virginia Commonwealth.
Get Free, No-Obligation Quotes on Mobile or Offsite Shredding Services in Richmond Today!
Shred Nations Richmond offers secure offsite and mobile shredding services to help you shred your documents in Richmond and Virginia.
If you need mobile shredding, offsite shredding, or electronic media destruction, just give us a call at (804) 417-4781, or simply fill out the form to the right to get your free shredding quotes! Within minutes of receiving your request, a Richmond Shredding Company representative will be in touch to schedule your shredding project.