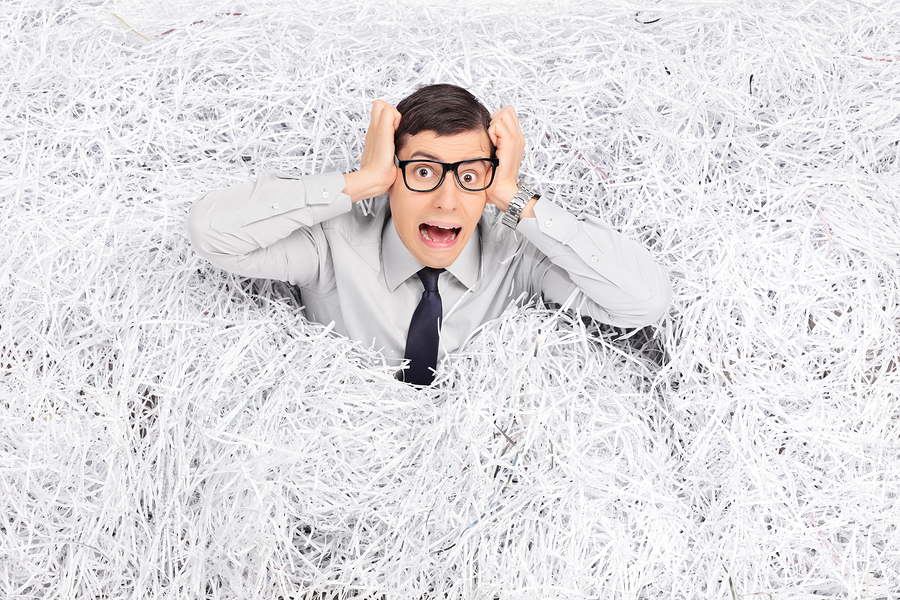 Shredding papers internally can be quite frustrating. First, you have to decide what needs to be shredded, what should be recycled, and what should be saved. Then you have to actually perform the shredding. Most companies choose to have an entry level employee do all of their shredding. This can be risky and pricey because the employee may come into contact with documents that are very confidential and you still have to pay the employee to do the mind numbing task. While your entry level employee crosses their fingers that there is not too much paper to cause a paper jam or over heat the paper shredder.
In this video, an Oklahoma City business experiences a full on fire, resulting in major damages from a paper shredder.
With a shredding service, you can collect all of the papers that you need shredded in a secure locked bin. When the bin is full a shredding contractor comes to your location and picks up your documents and completely shreds them. After the paper is shredded every piece gets sent to be recycled, making the whole process secure and ecofriendly.
Get Free, No-Hassle Paper Shredding Quotes Today!
Avoid the risks of in-house shredding with free paper shredding quotes from local contractors. Shred Nations specializes in helping you find the shredding contractor that that's right for your businesses regardless of the size of the job.  If you're looking for a quote on document shredding services, please fill out the form to the right, or give us a call at (800) 747-3365.
Within minutes of receiving your request, you will receive quotes from shredding contractors in your area so that you can select the company that fits your project or your office best.